Strategy
In a turbulent world, many expectations are placed on STUK. That is why our new strategy has put societal impact at the centre of its focus. We want to create a sense of safety in society and promote responsibility among our customers. These are the most essential issues for a radiation-safe Finland, where we want to improve our effectiveness, and thus the key elements of our strategy at the moment.
Mission statement
The purpose of STUK's operations is to protect people, society, the environment and future generations from the harmful effects of radiation.
Radiation safety in Finland is STUK's purpose of existence. The means by which STUK takes care of safety evolve with the changing world and society's expectations.
Vision
The happiest civil servants, the best agency and the most satisfied customers in the world -
​​​​​​​a radiation-safe Finland
Employees who find meaning in their work create the best agency in the world, with the expertise and services to support customer satisfaction. All of this enables a radiation-safe life in Finland.
Goals
Our goals ensure that STUK's mission statement is realised in a rapidly changing world.
Overall security of society and a sense of safety
We prepare for and respond to threats and concerns in society. We maintain our capabilities and good situational awareness and take our place among the authorities that keep society safe. In this way, we support society's ability to function and Finns' psychological resilience.
Responsible operators and well-functioning regulatory services
We provide proactive and coaching support to encourage operators to be responsible.
Our well-functioning and well-targeted services improve the conditions for safe operations.
Means
Means of action describe the ways in which we move towards our goals.
Enabling regulations
We will develop clear, proportionate regulations that enable the use of emerging technologies.
Radiation and nuclear safety, and the fact that it is the responsibility of operators, is not compromised. However, in the future, the operator may choose different ways to achieve the safety objectives.
Knowledge-based management - operations directed on the bases of risks and threats
We systematically collect information and build up situation awareness of the objects of our oversight and the threats to society. We use the information we have gathered and analysed to focus oversight and make decisions, and we share the information with those who need it.
Customer- and user-oriented digital services
We develop both our e-services and our own information systems. Well-functioning services and systems free up our customers and our own time and other resources for safety-critical issues. We seek efficiencies in development by leveraging partnerships.
Proactive social engagement
We provide information to support decision making and actively debate in society. Through open and active interaction, we build trust.
Cost efficient operations and financial stability
We ensure that the costs of our regulatory services remain reasonable and the costs of our services competitive. We manage our finances sustainably with a long-term perspective.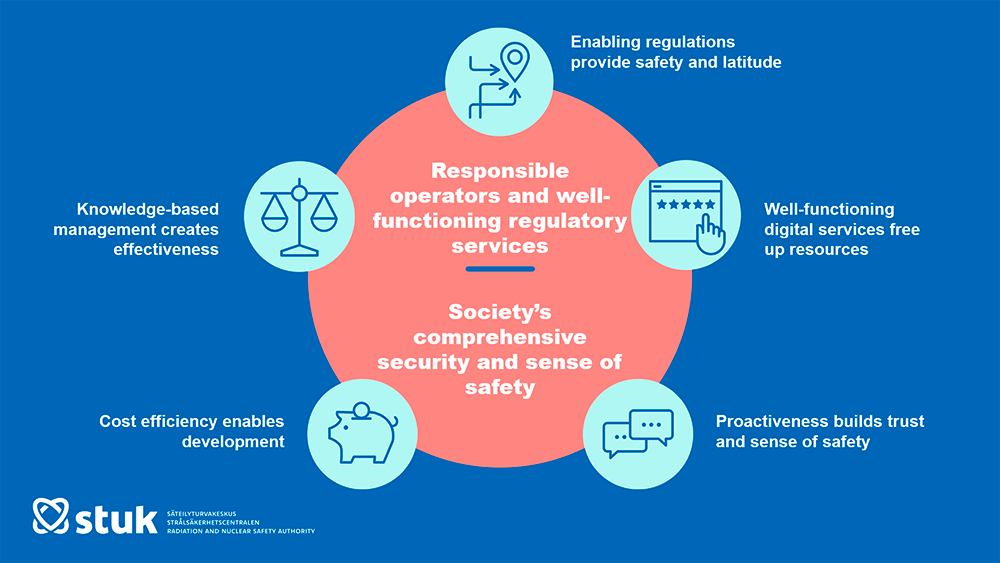 Values
Expertise
Our operations are based on the individuals' and the organization's high-quality expertise and scientific knowledge. The ability to understand complex entities and continuous competence renewal are indispensable for our work.
Openness
We operate transparently and honestly in all interaction. We are open to new ideas and ways of working. We want to provide clear information about our operations and safety.
Courage
We renew and dare to try different working methods. We bring up even difficult issues and seek solutions to them. We assume responsibility for our decisions and learn from our mistakes.
Co-operation
We can reach our goals better through co-operation than by working alone. Co-operation is based on trust, interaction and respect for every-one's work. We include stakeholders in the preparation of matters.